Abraham Lincoln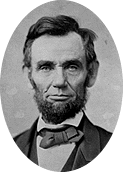 16th President of the United States (March 4, 1861 to April 15, 1865)
Nicknames: "Honest Abe"; "Illinois Rail-Splitter"
Vice Presidents: Hannibal Hamlin, Andrew Johnson

Born: February 12, 1809, in Hardin (now Larue) County, Kentucky
Died: April 15, 1865, at Petersen's Boarding House in Washington, DC

Father: Thomas Lincoln
Mother: Nancy Hawks Lincoln
Stepmother: Sarah Bush Johnston
Married: Mary Todd (1818-1882), on November 4, 1842
Children: Robert Todd Lincoln (1843-1926); Edward Baker Lincoln (1846-1850); William Wallace (1850-1862); Thomas "Tad" Lincoln (1853-1871)

Religion: No formal affiliation
Education: No formal education
Occupation: Lawyer
Political Party: Republican
SPECIAL INFORMATION:
During the Civil War, telegraph wires were strung to follow the action on the battlefield. But there was no telegraph office in the White House, so Lincoln went across the street to the War Department to get the news.
Abraham Lincoln hated the idea of a civil war, but accepted it as the only means to save the Union.
Lincoln's son, Robert, tried to have his mother committed to an insane asylum and take control of her money. He lost.
Abraham Lincoln was the first President to be shot while in office.
See Also:
White House History -- Abraham Lincoln
*******************
Return to Our Presidents