John Quincy Adams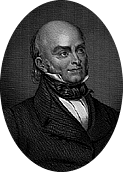 6th President of the United States (March 4, 1825 to March 3, 1829)
Nickname: "Old Man Eloquent"
Vice President: John C. Calhoun

Born: July 11, 1767, in Braintree (now Quincy), Massachusetts
Died: February 23, 1848, in Washington, DC

Father: John Quincy
Mother: Abigail Smith Adams
Married: Louisa Catherine Johnson (1775-1852), on July 26, 1797
Children: George Washington Adams (1801-1829); John Adams (1803-1834); Charles Francis Adams (1807-1886); Louisa Catherine Adams (1811-1812)

Religion: Unitarian
Education: Graduated from Harvard College (1787)
Occupation: Lawyer
Political Party: Democratic-Republican
SPECIAL INFORMATION:
John Quincy Adams: the only son of a President to serve as President himself.
In 1848, he collapsed on the floor of the House from a stroke and was carried to the Speaker's Room, where two days later he died. He was buried -- as were his father, mother and wife -- at First Parish Church in Quincy. To the end, "Old Man Eloquent" had fought for what he considered right.
See Also:
White House History -- John Quincy Adams
*******************
Return to Our Presidents