William Howard Taft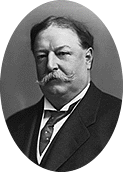 27th President of the United States (March 4, 1909 to March 3, 1913)
Nickname: None
Vice President: James S. Sherman

Born: September 15, 1857, in Cincinnati, Ohio
Died: March 8, 1930, in Washington, DC

Father: Alphonso Taft
Mother: Louisa Maria Torrey Taft
Married: Helen Herron (1861-1943), on June 19, 1886
Children: Robert Alphonso Taft (1889-1953); Helen Herron Taft (1891-1987); Charles Phelps Taft (1897-1983)

Religion: Unitarian
Education: Graduated from Yale College (1878); Cincinnati Law School (1880)
Occupation: Lawyer, public official
Political Party: Republican
SPECIAL INFORMATION:
William Taft gave the White House its first set of cars. He has the stables converted into a garage for four cars, all ordered in 1909.
President Taft was a huge man, weighing more than 300 pounds. A special bathtub was installed for him in the White House, big enough to hold four men.
William Howard Taft: the only man to become President and then chief justice.
See Also:
White House History -- William Taft
*******************
Return to Our Presidents